Hi, my name is Louise, and together with my husband and two children, we own Gray's American Bulldogs. We live on a 20 acre property, located in Central Victoria.

We were first introduced the American Bulldog breed in 1998 when friends of ours owned a male and female. We were immediately impressed by their big heads, size, strength, by their temperament, and loyal nature. This is when we bought our first American Bulldog (see photo below).

Many years ago, while looking for another American Bulldog puppy, we were researching bloodlines, breeders etc, we could see their was a need for more responsible breeding such as health testing for Hip/Elbow Dysplasia, NCL (Neurological Disorder), and DNA Profiling.

We health test, temperament test, & field test all our dogs before breeding them. We "do not" or "will not" breed un-health tested dogs. This includes testing for Hip and Elbow Dysplasia, NCL, Ichthyosis, OFA Cardiac, OFA Patellas, and DNA Profiling. All our puppies will be NCL CLEAR and Ichthyosis CLEAR (by parentage). This sort of health testing is rarely done in Australia.
(Please read our Buyer Beware page for more information on health testing).
We are dedicated and doing our best to breed healthy American Bulldogs with good conformation and stable temperaments. We have spent a lot of time researching and sourcing the best bloodlines to bring in to our kennel. We pride ourselves in being a friendly, contactable, and a supportive to our buyers.
We have imported semen from both American and European Champion studs/bloodlines. We have big plans for the future of our kennel and care for the future of the American Bulldogs.

The American Bulldog is a versatile breed that can be trained to do almost anything. This includes guard work, hunting, farm work, and they are also gentle and loving family pets. Our dogs are family pets, work on our farm, & also guard our property when needed. We work/exercise our dogs everyday on our property. This includes running, walking, swimming, rope work, flirt pole, fetch & training. Our dogs are fit & healthy dogs.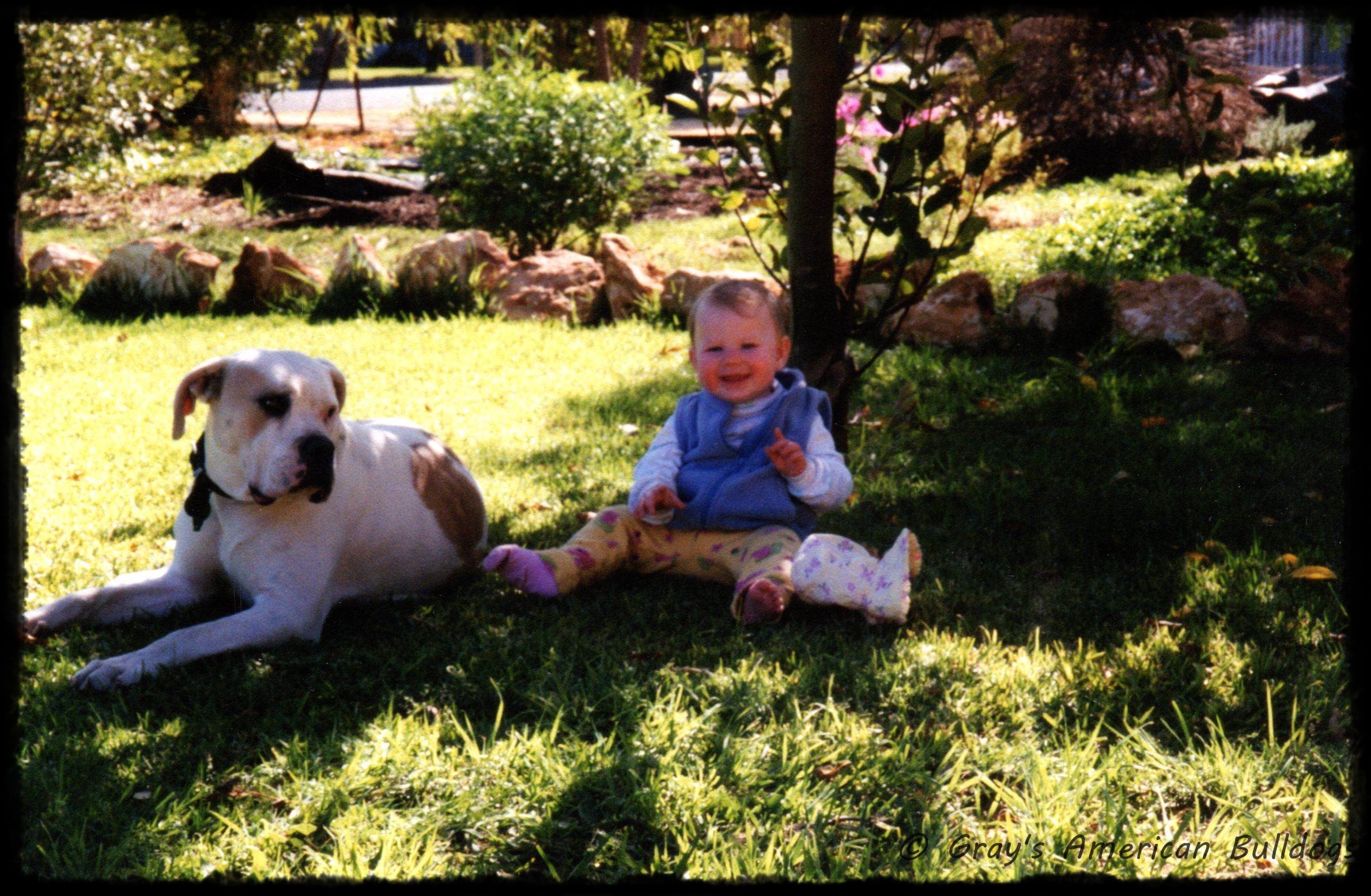 Our first American Bulldog & our daughter in 2001.